Design-2-Part Shows are a great way for design engineers, manufacturing engineers, sourcing managers, and purchasing agents to connect with contract manufacturers.
The Rubber Group invites you to meet us at any of the Design-2-Part shows listed below. You'll need to register, so please click the name of the show you'd like to attend and then complete the on-line form.
Texas
March 13 & 14, 2019
Gaylord Texan Convention Center
Grapevine, TX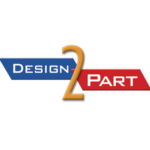 Greater Chicago
May 8 & 9, 2019
Schaumburg Convention Center
Schaumburg, IL
New England
September 25 & 26, 2019
Royal Plaza Trade Center
Marlborough, MA
Midwest
November 6 & 7, 2019
Indiana Convention Center
Indianapolis, IN
Southeast
November 13 & 14, 2019
Charlotte Convention Center
Charlotte, NC
Would you like to let The Rubber Group know that you're coming? Are you unable to attend, but still want to connect? Then contact us online anytime.